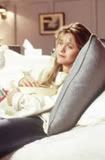 The real men in my life occasionally join me in watching what cinema people refer to as "romantic comedies", primarily because I ask them really nicely. No one who is related to me (except my father, who is exempt from all generalizations whatever) has survived until now without watching at least some portion of
Sleepless in Seattle
, which I consider the most enjoyable girl-movie ever made. ("God, I loved that movie.") The reason, I suspect, is primarily self-defense; my daughters and I are prone to burst into random
Sleepless
scenes with no notice whatsoever.
But don't worry, gentlemen, you are neither alone nor necessarily damaged by the experience. Scott Nehring, a writer of punchy movie reviews from a Christian perspective, has delivered what I consider the
summa
male response to the genre in his review of
The Devil Wears Prada
, offering a tried and true antidote if you find yourself trapped into a viewing of a Meg Ryan epic:
It's a Über-chick flick and I really enjoyed it. Don't worry, when I was done watching I killed a bear with a knife, mangled things with a chainsaw and left the toilet seat up all night to recalibrate my masculinity.
Feel better now?